Need Talented Creatives On Your Team?
Source top Caribbean talent ready for employment - from graphic designers to copywriters and web developers, and other Creatives in between. Find them on Pineapple Jobs - a reverse job board securely connecting global companies with Caribbean Creatives.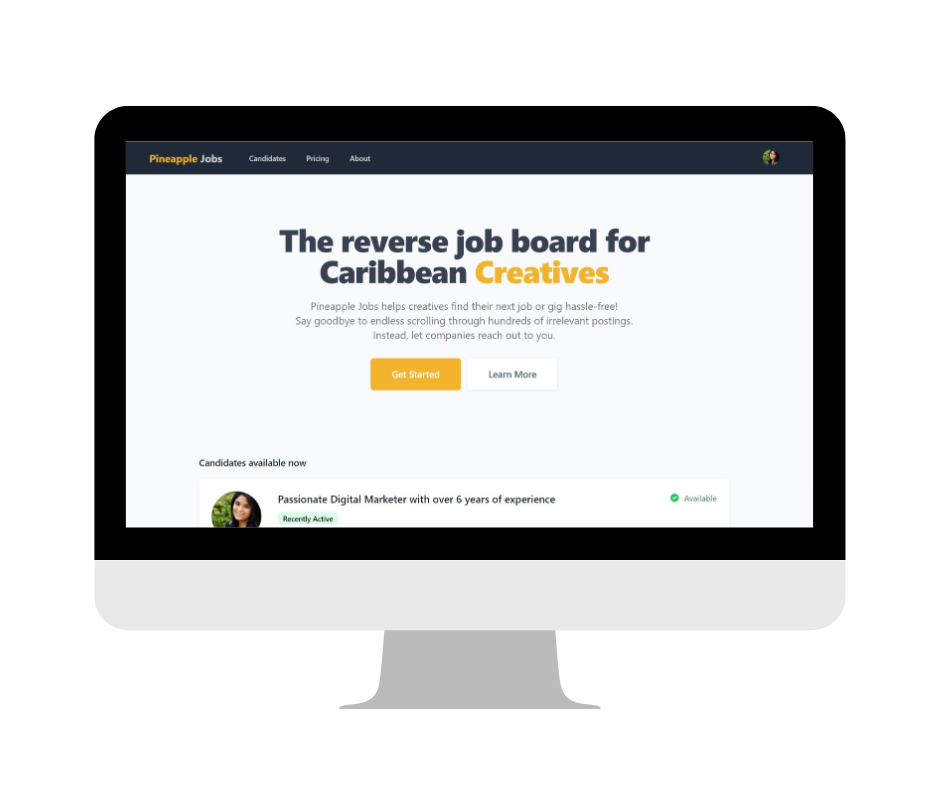 How this works
Source candidates
Find candidates with the creative, marketing, digital and engineering skills you need in your organization while diversifying your workforce.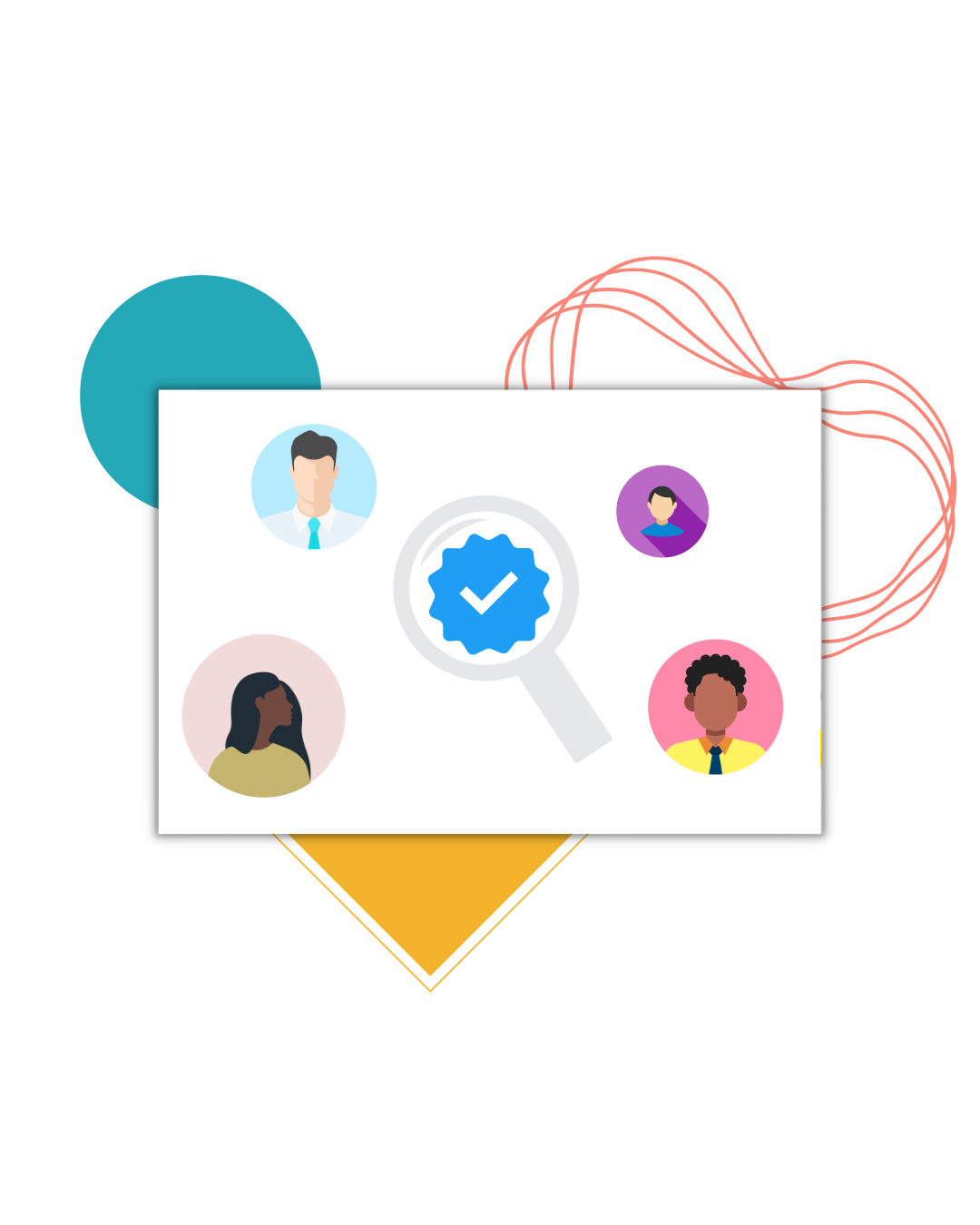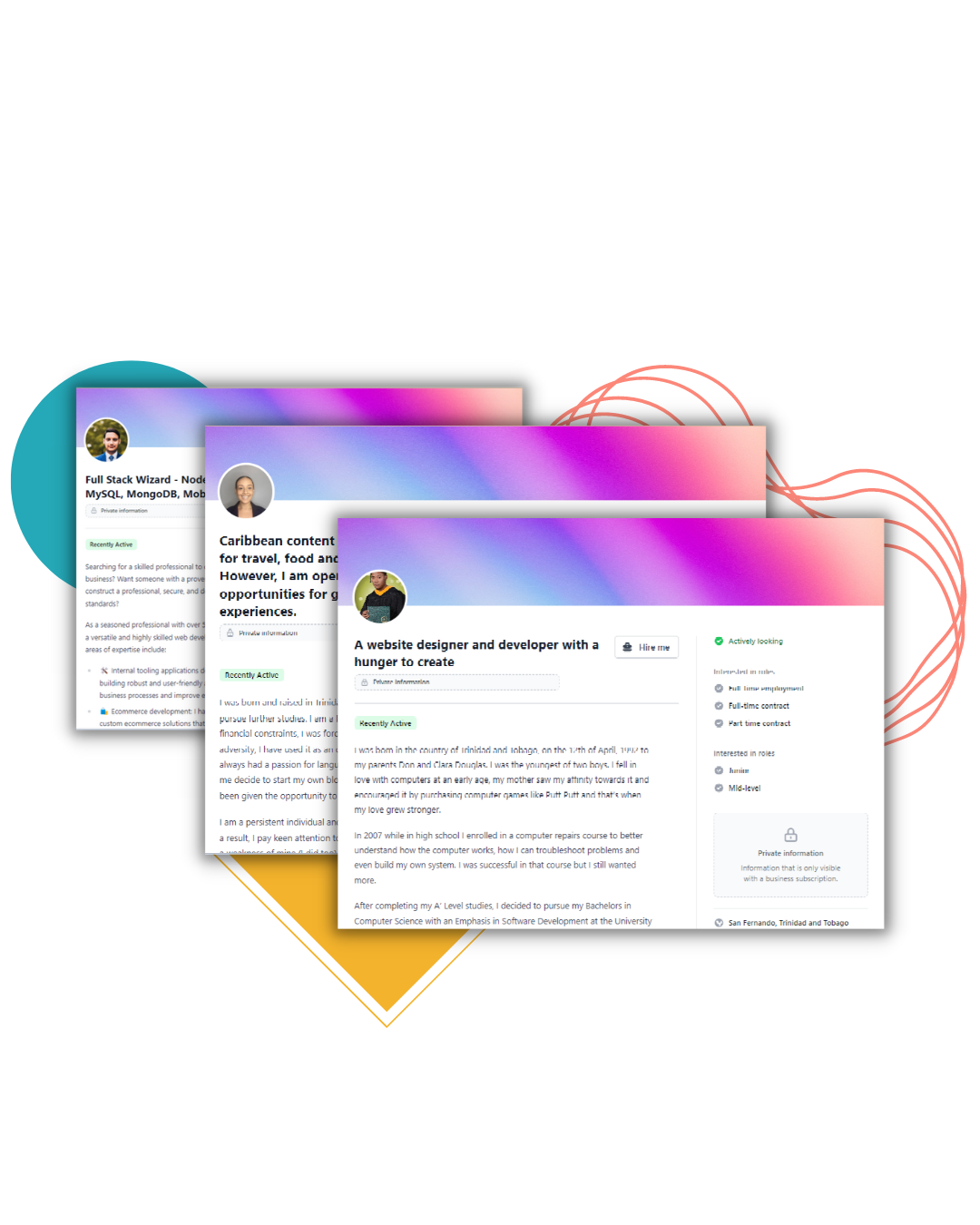 View resumes
Access candidate resumes when recruiting for apprenticeship, full-time, part-time, freelance, remote or onsite vacancies.
Talk with potential hires
Our platform has a live chat feature so you can talk with potential hires so you can invite them to interview with you.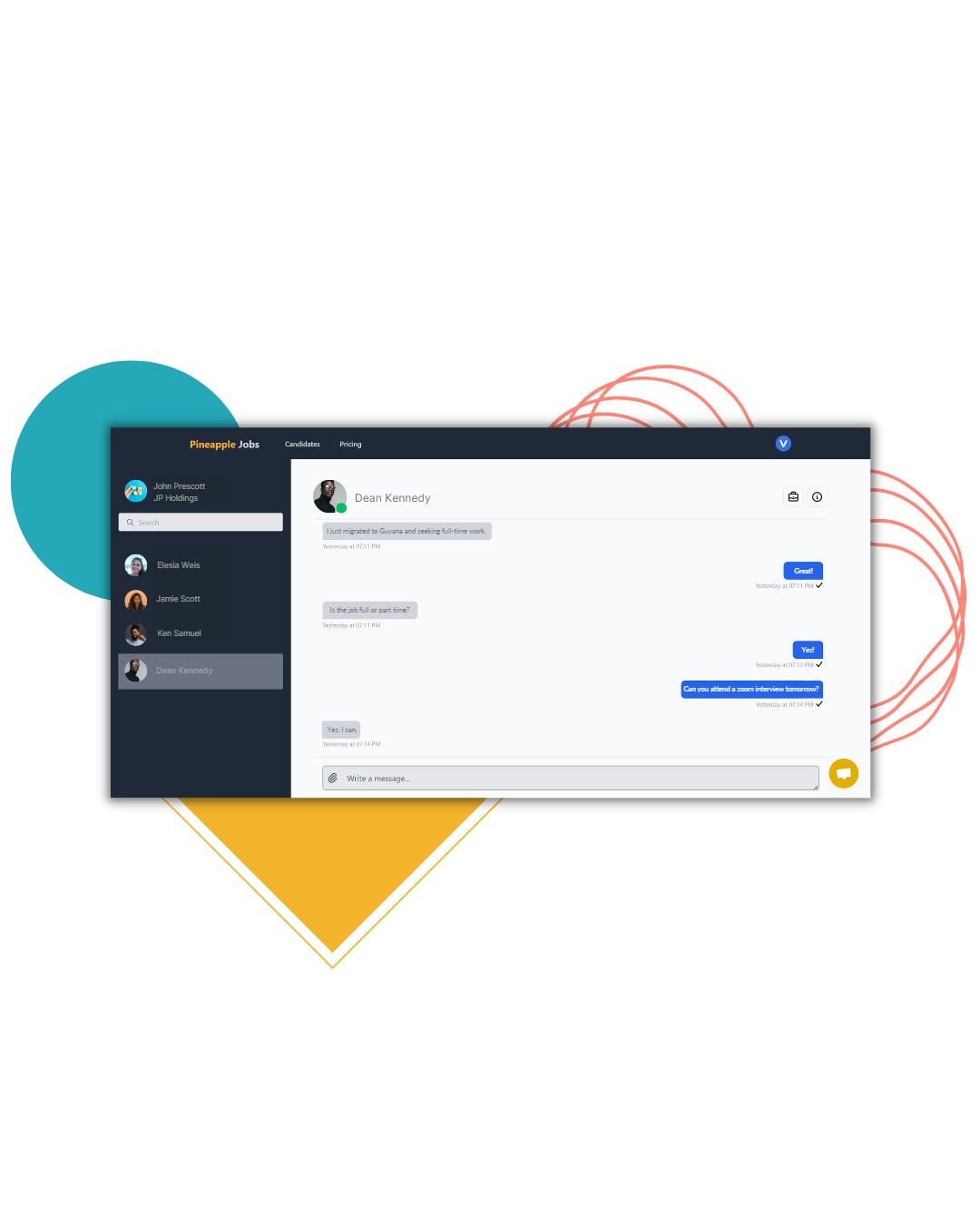 Fast and easy
To get started
1. Create an account
All you will need is an email and password to get started. Then complete your business profile to access candidate public profiles.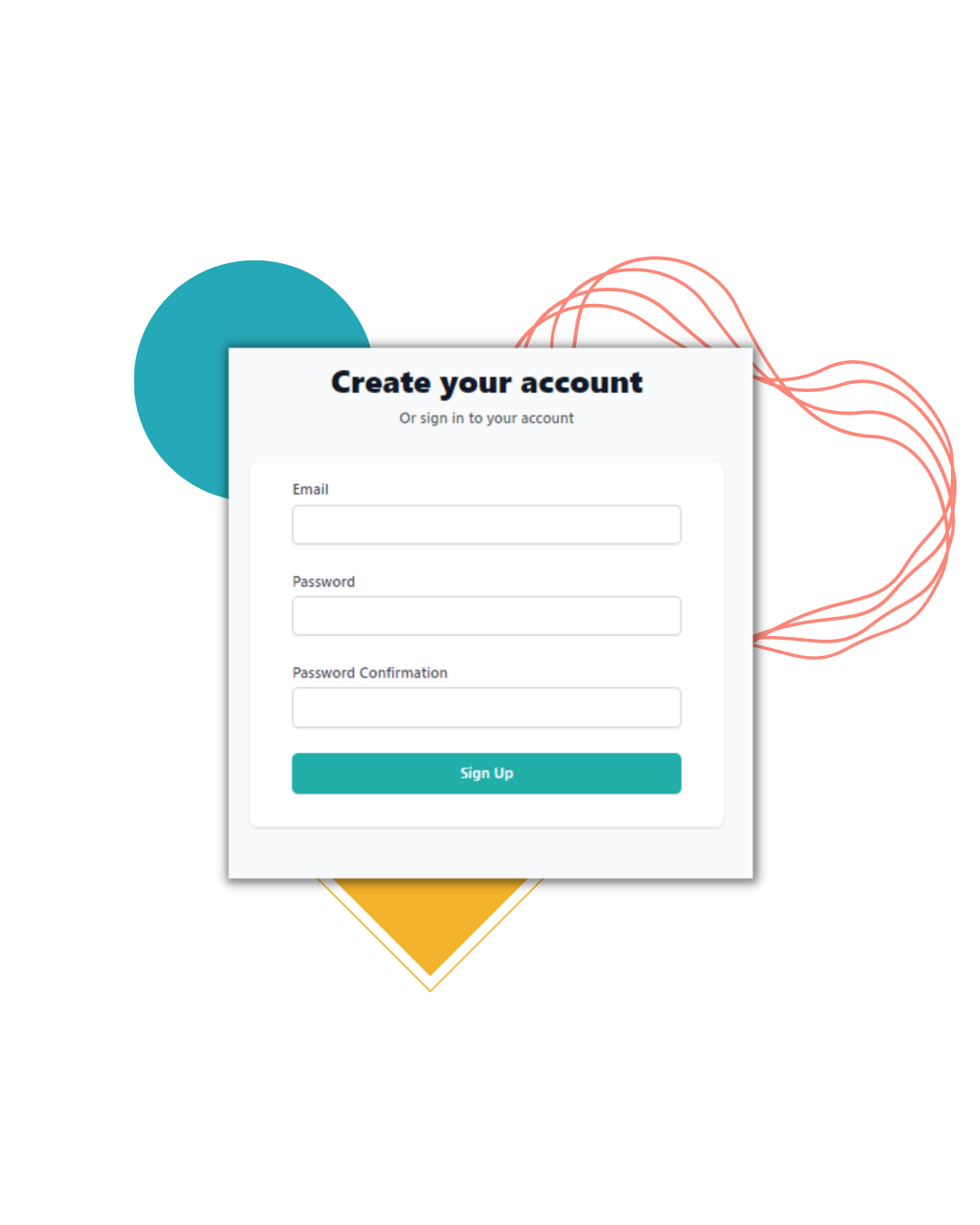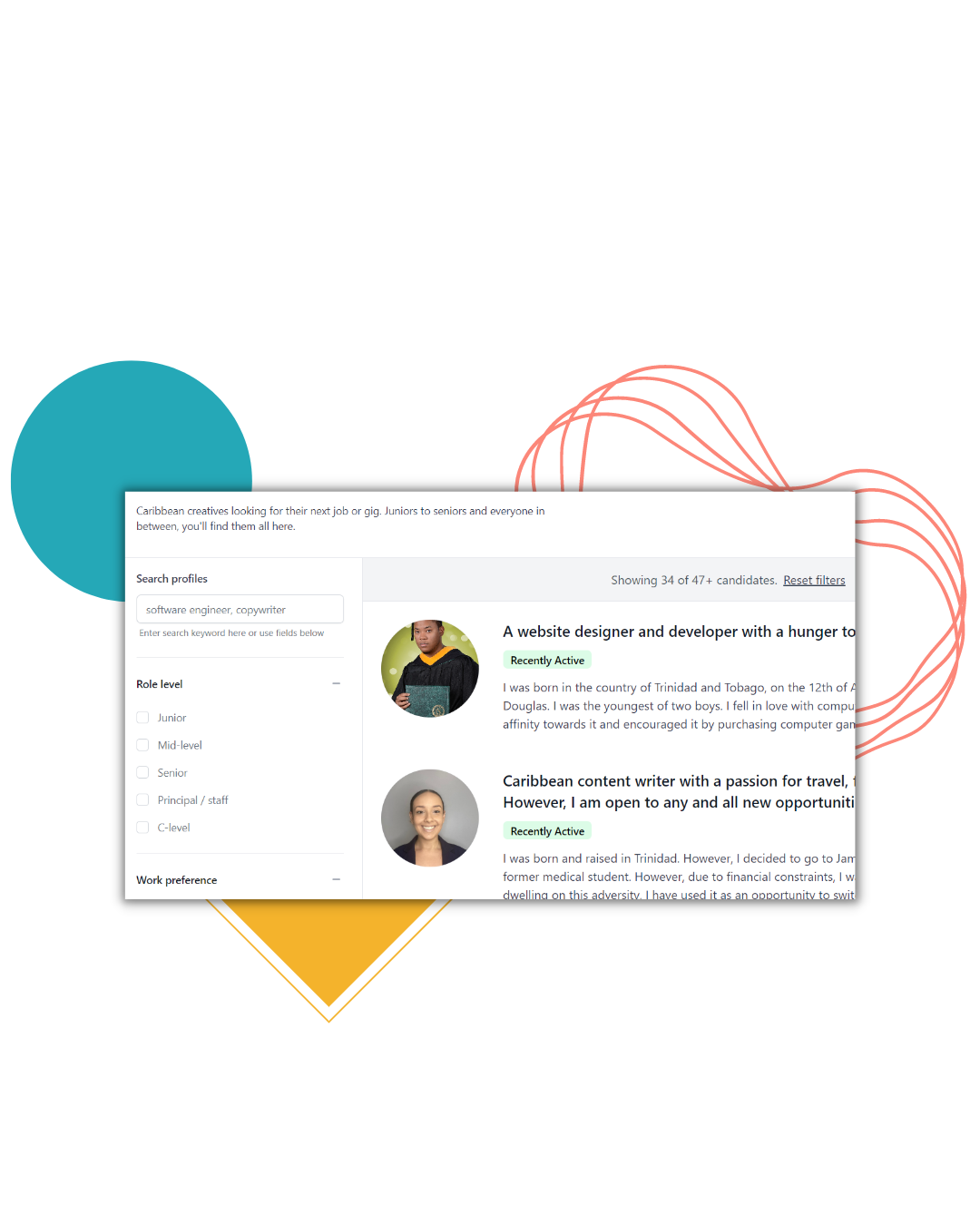 2. Filter & search
Search through our pool of candidate profiles. You'll have the option to filter searches.
3. Invite candidates to interview
Reach out and chat with candidates without leaving our platform so you can start your recruitment process.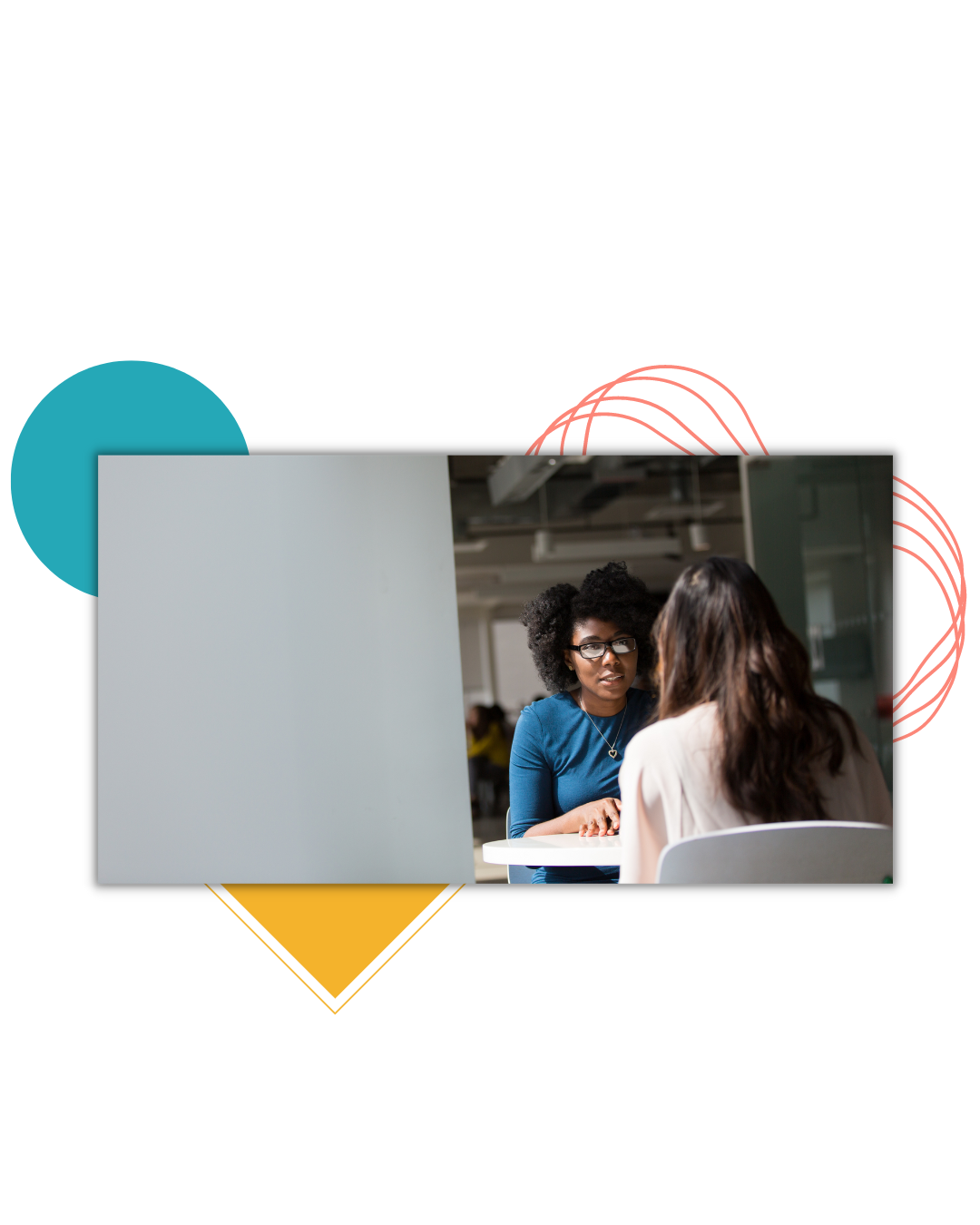 Two simple plans

For your 1st hire and beyond
Self Service
(Unlimited hires)
Skip the formal job postings and middlemen – hire directly from a candidate pool of Caribbean creatves, from juniors to C-level.
Pineapple Jobs exclusives
Exclusively Caribbean & LATAM talent

Hand-selected matches every month

Message candidates directly

Email updates of new candidates

Diverse candidate pool

Email and video support from the founders
Save 25% yearly
Or $249 billed monthly.

Zero hiring fees

Recruitment Service
(Direct placement)
Don't have the time to source candidates on our platform? Hire us and our team of experts will find the perfect match for your organization.
Pineapple Jobs exclusives
Exclusively Caribbean & LATAM talent

Hand-selected and vetted candidates

Guaranteed placements

No upfront payment required

The best talent from the region

Placements in less than 30 days on average
The Caribbean's only hiring platform
Organic, genuine conversations with higher response rates than LinkedIn or cold email.
Response rate

92%

New candidates every month

50+
Frequently asked questions
Does Pineapple Jobs cost anything for candidates?

No. Pineapple Jobs is free for candidates.

What's the fee for recruiters to access candidate profiles?

Businesses recruiting candidates can get started for free and upgrade when ready to start contacting candidates. Subscription starts at $249/month.

Can I pay monthly or quarterly?

No. We do not accept monthly or quarterly subscriptions at this time.

Can I cancel my subscription at any time?

Yes. You can cancel your subscription from the Billing link in the user drop-down. You will lose access to all paid features at the end of your billing period.

Who can I contact for more specific questions?

Email us with any questions. You can reach us at [email protected].
Save time and hire fast
Let's find your Caribbean and LATAM remote worker for you.
You can find your perfect candidate match without a subscription when you sign up for our contingency or flat-rate recruitment services.